BIM Methodology
At Caleido we breathe BIM, this has allowed us to reach all our collaborators articulately, strengthening construction processes and speeding up their execution.
All this has been possible thanks to Construcia's commitment to new technologies, making them easier to use.
At Caleido, the main requirement is to move from an LOD300 to an LOD 500, with which the management of the model's information is fundamental. To this end, we installed our own NAS for the work, which allows us to have all the information with immediate access for all the collaborators.
From the installation model, all the prefabrication and assembly plans for the site have been produced. By using different applications, we have managed to transfer the information almost in real time, allowing the site modellers to provide immediate solutions to any problems that may arise.
From the outset, Construcía Instalaciones has had the premise of making the model information easily accessible, which is why free applications with easy access for collaborators have been used whenever possible. This enabled us to experiment with different platforms obtaining very positive results that will allow us to apply them to our future works.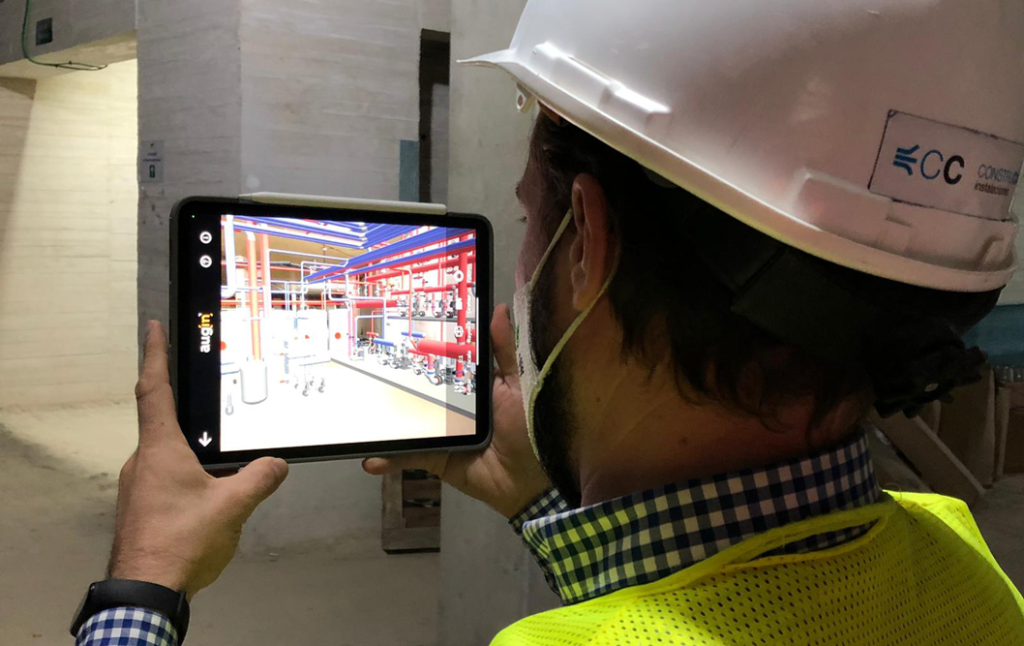 One of the most outstanding ones has been the use of Mixed Reality and Virtual Reality to our day-to-day work.
Augmented reality allows us to see in real time the overlay of the installations generated by BIM model in real spaces. To do this, we used company mobiles and tablets on site, providing a very practical tool for technicians and subcontractors. This technology was used when constructing production rooms in Torre Caleido.
We have used virtual reality as an immersive tour where the technician can walk around a production room and see in real scale the position of all its elements. In this way, we have been able to show our procedures to the subcontractors, who have appreciated the application of these platforms as it makes their work easier, facilitating decision-making.
Among the important investments made by Construcía Instalaciones to facilitate the implementation of BIM methodology is the purchase of a Faro scanning station. The laser scanner is already an important part of our protocols. This technology allows us to reliably transpose the changes that arise in the work, making the obtaining of As-Built documentation a smooth process, allowing us to obtain a 100% REAL mode, Providing our clients with a very important tool for the management of their assets.
We invite you to get to know us, we invite you to create the future together.